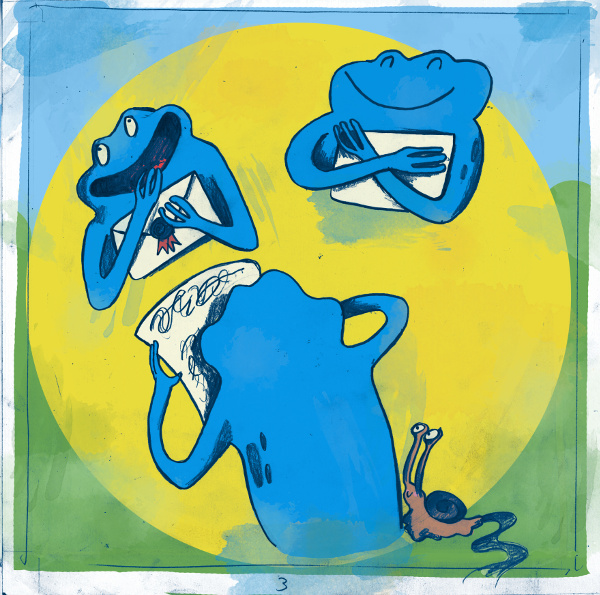 My new book is called the Frog Who was Blue and it has been written to support the World Medical Fund (WMF), a fantastic charity that works in Malawi. WMF does wonderful work and aims to treat around 25,000 sick children a year. The charity's programmes cover the entire district of Nkhotakota in central Malawi, one of the least developed regions of the country. WMF badly needs donations to continue its work and we hope that the book will help raise funds and promote interest in the projects being run in Malawi. At the moment, a terrible food crisis is gripping southern Africa and it is having a devastating effect in Malawi. Malawi already has a high prevalence of malnutrition, with the rate of stunting at 47% and as a medical charity WMF needs external support more than ever. Just a modest donation can make an absolutely huge difference to children's survival.
The Frog Who was Blue is aimed at younger children than some of my previous books, but I hope it will appeal to everyone. A lot of the children who visit WMF's treatment centre need a welcome distraction and we hope the book might help with that. I'm hoping that the hero of the story, Biriwita the blue frog, will cheer them up. I am very lucky to have had the chance to have worked with Naomi Powell, who is not only a very talented illustrator, but extremely generous − as she worked on the book on a pro bono basis when she heard about what WMF were doing. She has really brought Biriwita the blue frog to life and I am hoping we can eventually adorn the WMF clinic walls with pictures of his adventures.
Biriwita the blue frog longs to be accepted at Croak College, the most famous school for frogs in Malawi, but the other students all turn their backs on him. He is just too different!